Some adults might need a nudge as well…
"It can be easy for children (and adults) to forget what it takes to wash well" – which is why it's important that hand washing messages are reinforced on a regular basis, according to a recent report on the Medical Express website.
Washing hands can become an automated, thoughtless task, without the necessary focus on doing it properly and for the right amount of time. And now, with the pandemic still in full swing, effective hand hygiene is more essential than ever.
"One of the best way to help prevent the spread of COVID-19, influenza and other infectious diseases is by washing your hands."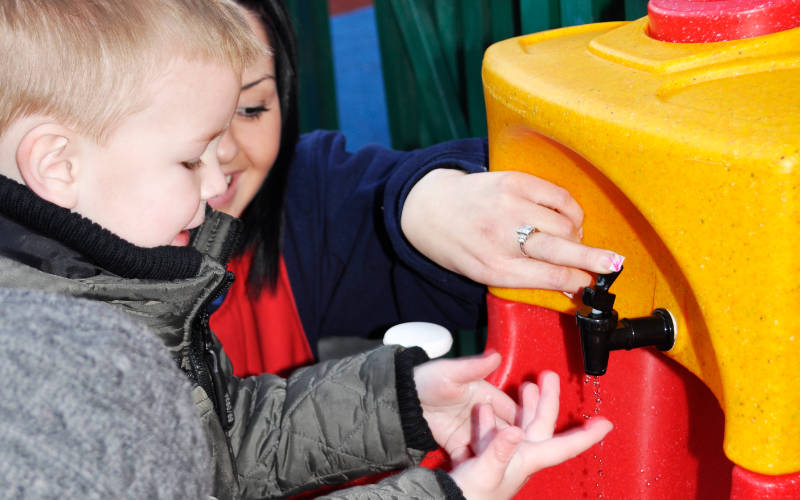 Washing for a full 20 seconds using soap and running water is by far the best way of cleaning hands says the article, during which time you should "…wash your thumbs, between your fingers, your finger tips, the backs of your hands and even around your wrists."
The Centers for Disease Control and Prevention (CDC) guidance COVID-19 (Coronavirus Disease) – How to Protect Yourself & Others states
"Wash your hands often with soap and water for at least 20 seconds especially after you have been in a public place, or after blowing your nose, coughing, or sneezing."
Free to download – hand washing themed worksheets for preschool children »
---
How to remind kids about effective hand washing techniques
The Kiddiwash range of warm water hand wash units are perfect for smaller hands – and are ideal where a portable solution is required.
Whether you require a larger wheeled unit such as the KiddiSynk, or the ultra portable Kiddiwash Xtra, you can ensure that all children in your care are able to wash their hands whether inside or out.