Advice, resources and poster from Global Handwashing Day
A very important event occurred last weekend as the Global Handwashing Day message was repeated across the world.

The global advocacy functions to demonstrate that effective washing is both an effective and – importantly – affordable way of preventing the spread of infection and illness. Hand washing saves many lives every year across the globe, but the number could be so much more impressive if more people got the point of it.
The event website states that
"Global Handwashing Day is an opportunity to design, test, and replicate creative ways to encourage people to wash their hands with soap at critical times."

Preschool handwashing help and resources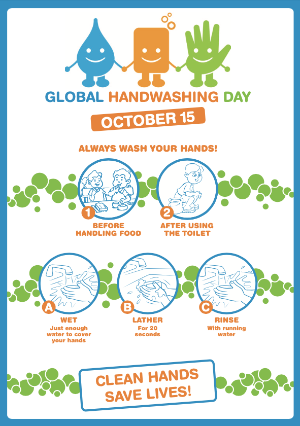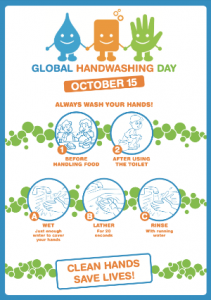 Free to download and print is the Global Handwashing Day "Always Wash Your Hands" Poster (illustrated). It provides an ideal starting point for all preschools and nurseries when it comes to hand hygiene education.
The website page BEYOND Global Handwashing Day has sections for both teachers and parents.
Teachers and school leaders are encouraged to
make sure that their school has a facility near the toilet to wash hands
Suggestions for parents and carers include:-
Help your child's school with WASH improvements
Enable the PTA to educate children and to help bring about the use of appropriately positioned handwash stations
"Teach all your children proper handwashing with soap at critical times, and be sure to demonstrate this behavior yourself."
Teach children effective hand washing techniques with mobile sinks that can go anywhere – indoors or out
The Kiddiwash range of warm water hand wash units are perfect for smaller hands – and are ideal where a portable solution is required.
Whether you require a larger wheeled unit such as the KiddiSynk, (left) or the ultra portable Kiddiwash Xtra (right), you can ensure that all children in your care are able to wash their hands whether inside or out.