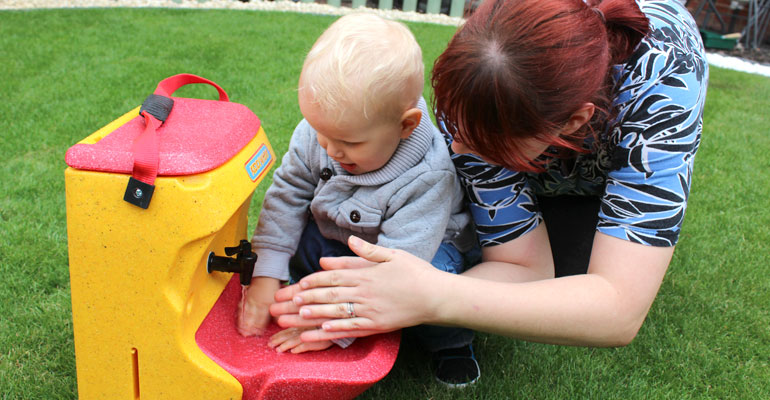 Washing facilities in preschool & nurseries
TEAL Kiddiwash products are the perfect addition to any daycare centre, nursery or preschool establishment where portable, convenient warm water hand washing is required.
They are the particularly ideal for those in temporary or non purpose built facilities, where Food Hygiene Regulations would otherwise cause a serious concern.
Food safety for preschool and nurseries
It is important that all nurseries have in place "Food Safety Management Procedures" and this must be based on the principles of HACCP – Hazard Analysis Critical Control Point.
Separate sinks for food, utensils and hand washing
Food hygiene regulations require separate sinks for
The washing of food such as meats, fish, salads fruit and vegetables.

The washing of utensils, equipment and crockery.

The washing of hands (see the Kiddiwash Xtra and KiddiSynk models for effective, fun warm water hand washing.)
The TEAL Pinkiwash and the TEAL Super Stallette enables your nursery facility to quickly and easily comply with all relevant regulations – whilst at the same time giving children access to easy to use, safe and fun warm and HOT water hand washing opportunities.
Hot water hand washing is mandatory throughout the food industry. Hundreds of organisations that require extra portable hand washing solutions turn to TEAL, who provide the most comprehensive and effective units in the World.
From schools and nurseries, to hospitals and health centres and mobile catering establishments, TEAL enable customers wherever they are to enjoy a perfect hot water hand wash – every time.
Visit the TEALwash website to see our complete range of hot water hand wash units suitable for catering as well as medical and healthcare use.