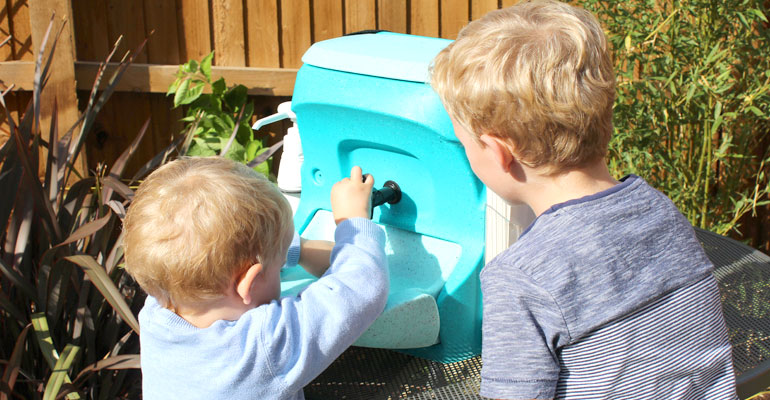 Effective hand hygiene for children
It is important that all children learn how to wash their hands effectively, using soap and warm water and disposable paper hand towels. They need to be taught to thouroughly wash their hands:
Before meals
After using the toilet
After dirty play, in doors or outdoors.
Equally importantly, children should all have access to suitable warm water hand washing facilities, whether they're learning about food hygiene, or playing out of doors.
The TEAL Kiddiwash – warm water hand washing wherever you need it
The Kiddiwash range of warm water hand wash units are perfect for smaller hands – and are ideal where a portable solution is required.
Kiddiwash products are loved by little Children, the unique Flippi-tap is so easy to use. The warm water spray is gentle on little hands and they will want to wash again and again.
Whether you require very portable Kiddiwash Xtra or the very mobile KiddiSynk all children in your care can enjoy a warm water hand wash wherever they are.
Swine flu and nurseries
A key element in the ongoing battle against pandemic flu, is the provision of appropriate warm water hand washing facilities. Current government advice includes the following:-
Also make sure that your child uses soap and water when washing their hands.
For more information see the DirectGov web site.
Handwashing and physical development
It is important to have suitable hand washing facilities and tuition for young children. It's an important part of their physical development, particularly with regard to Health and Bodily Awareness.
Indeed, the Department for Children, Schools and Families (DCSF) is quick to acknowledge the importance of hand washing, as an integral part of Physical Development.
Create opportunities for moving towards independence, for example, have hand-washing facilities safely within reach, and support children in making healthy choices about the food they eat.
Early Years Foundation Stage
The Department for Education and Skills (DfES) highlight the importance of hand washing and hygiene, particularly with the 30 – 50 month age group. The EYFS is "Setting the Standards for Learning, Development and Care for children from birth to five" and highlights the following areas of importance:-
"Show awareness of a range of healthy practices with regard to eating, sleeping and hygiene.
"Washing:
• Helps wash self and own hair.
• Helps dry self after washing.
• Uses taps on hand basin.
• Washes and dries own hands.
• Turns taps on and off."
Read more about the Early Years Foundation Stage.
Teaching hand washing