Well done to The Old Fire Station Nursery!
Children from The Old Fire Station Nursery – which looks after children from aged one to four – were paid a visit from the Kiddiwash Crew and presented with a Handwashing Hall of Fame certificate for excellence in teaching the importance of washing hands to children in their care.
The nursey is set in the beautiful, Grade 2 listed building, the Old Fire Station in Birmingham's Jewellery Quarter. This local landmark, which was built in 1908, has been converted to provide spacious, light rooms designed and dedicated to each stage of a child's development.
Shebi Begum, nursery manager at The Old Fire Station Nursery, said:
"Raising the issue of the importance of hand hygiene in nurseries is a top priority for us. Being able to provide a hand washing facility, like TEAL's Kiddiwash Xtra, that children are happy and excited to use is vital."
About the KiddiWash Xtra
Portable, robust and easy to clean, KiddiWash Xtra portable sinks are the perfect warm water hand washing unit for smaller hands – and is ideal for preschool and nursery situations.
An effective and fun hand wash can be provided anywhere with this versatile unit. It's entirely self-contained: just fill it with warm water and the KiddiWash Xtra will keep it warm for hours.
See the KiddiWash Xtra in the TEAL shop »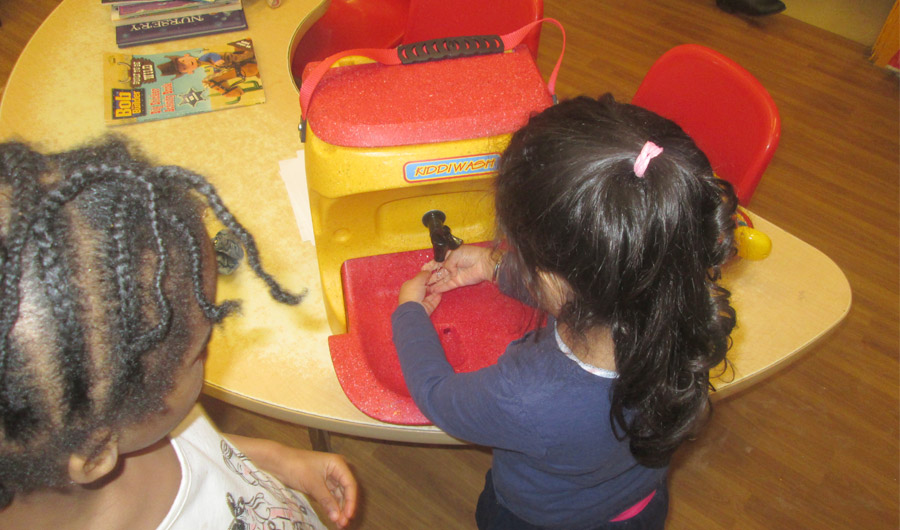 Children at the Old Fire Station Nursery try out their new KiddiWash portable sink
5 KiddiWash Xtra portable hand washing sinks to be won
The KiddiWash clean hands competition - enter your nursery!
Exclusive to nurseries or preschools across the UK, TEAL Patents Ltd is calling for young artists to draw their sparkling, clean hands for a chance to win a child friendly handwashing unit for their nursery.