Illnesses can be caused for human visitors – even when the animals are healthy
Drug-resistant superbugs could be thriving in petting zoo environments – described as a potential "breeding ground" – where more than ten percent of animals carry at least one bacterial strain that is capable of being unaffected by antibiotics, according to a recent report on the Independent website.
The article by Health Correspondent Alex Matthews-King, states that resistance to antibiotics has been dubbed a "Global health emergency" and refers to recent research by Ariel University which had tested animals at eight randomly selected petting zoos, concluding that "they were 'reservoirs' for microbes that could easily spread from children to vulnerable relatives."
Why hand washing at the point of need is vital
The report quotes Professor Shiri Navon-Venezia, who recently presented the research to the European Congress of Clinical Microbiology and Infectious Disease in Amsterdam. He acknowledged the "high educational and emotional value" of petting zoo visits for children, but warned the management teams of such facilities that they should take all possible steps to reduce infection transmission between the animals and zoo visitors.
"Other measures include prohibiting food and drink being consumed near the animals and regular hand-washing stations."
---
Robust, easy to use portable hand washing sinks for children on farm visits
Hand washing is the most important lesson a child can learn and acquiring it is an essential lifelong skill. A Kiddiwash Xtra or KiddiSynk portable hand washing sink can be positioned right next to the sand pit – helping to ensure that children dramatically reduce the risk of infection as they finish play.
The Kiddiwash range of warm water hand wash units are perfect for smaller hands – and are ideal where a portable solution is required.
Whether you require a larger wheeled unit such as the KiddiSynk, or the ultra portable Kiddiwash Xtra, you can ensure that all children in your care are able to wash their hands whether inside or out.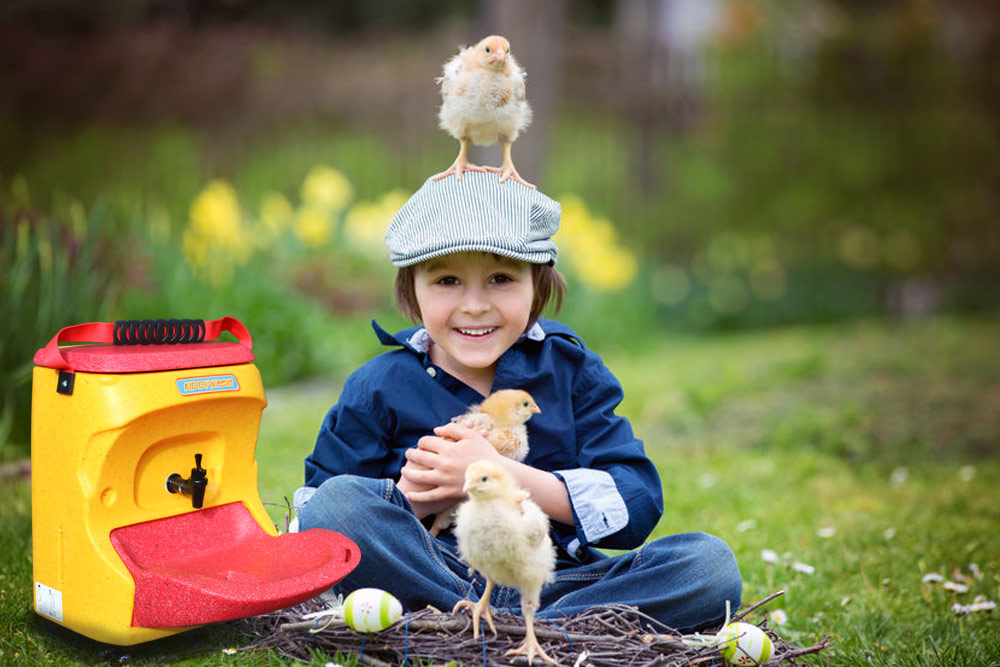 ---
Free EYFS downloads for preschool, nursery
There is a number of PDF documents that will help to educate and entertain the children in your care: they all have a hand washing theme. They are free to use and distribute for everyone.