Poll of parents reveals worrying lack of understanding when it comes to hand washing
A recent survey of 2,000 adults has concluded that "nearly two-fifths" of those with children needed to remind them to wash their hands after a toilet visit – a situation that seems to be exacerbated by the fact that many parents are unsure of the basic requirements of effective hand hygiene, according to a recent report on The Sun website.
Hand washing habits amongst adults have certainly improved since the onset of coronavirus – both in terms of frequency and technique, and yet sixteen percents of adults who responded in the Royal Society for Public Health (RSPH) / Lifebuoy survey, "…worry they aren't always setting the perfect example for their kids" wrote Astrid Hall.
Dr Ranj Singh is quoted as saying that even though the message has "sunk in with adults", they are"unsure of the most important times to wash their hands."  
"There is even more work to be done with children. Forming good habits when young is critical in helping to reduce the spread of infection – particularly as kids head back to school."
More to be done regarding the teaching of hand washing
More than 80% of those surveyed parents are worried about the hygiene habits of their children as they return to school concluded their report. And nearly half expressed a concern that children would return home with germs.
Dr Singh is quoted as saying
"It's great that hand-washing has been taken more seriously over the last few months as it's been shown to be one of the most effective ways of preventing the spread of germs and bacteria."
---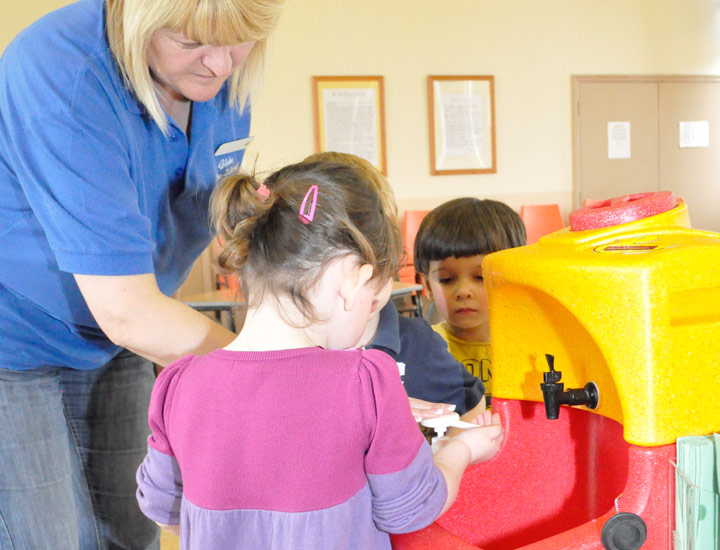 Children being taught to wash their hands with a Teal portable sink
Teach children effective hand washing techniques with portable sinks that can go anywhere – indoors or out
The Kiddiwash range of warm water hand wash units are perfect for smaller hands – and are ideal where a portable solution is required.
Whether you require a larger wheeled unit such as the KiddiSynk, or the ultra portable Kiddiwash Xtra, you can ensure that all children in your care are able to wash their hands whether inside or out.