Lack of running water preventing essential handwashing
A parent has voiced a widely held concern that temporary classrooms do not contain proper hand washing facilities, according to a recent report on the City News 1130 website.
The article by Renee Bernard quotes parent Stephanie Schick as saying
"It doesn't seem acceptable, in my opinion, for hand-hygiene to be treated this way during a pandemic, when that has been drummed into us from the beginning."
The problem has come to light in Vancouver, where 117 portable classes are currently being housed in such units: "Most don't have running water", says the article.
Why soap and water hand washing is essential
When children need to wash their hands with soap and running water (essential if hands are visibly dirty) – surely a regular occurrence in these troubled times – they have to make their way to the main school building, and queue to access wash basins in a socially distanced fashion.
Although gels are supplied, they are far from idea, according to Ms Schick.
"Not everyone can use hand-sanitizers if they have skin conditions. I don't think everyone wants to eat with their fingers after they put hand-sanitizers on their hands. It also doesn't remove grime or dirt, and it doesn't remove allergens."
It seems that a lack of proper soap and water hand washing facilities is a major problem in temporary classrooms in many countries, despite the fact that, according to the Centers for Disease Control and Prevention (CDC).
"Washing hands with soap and water is the best way to get rid of germs in most situations."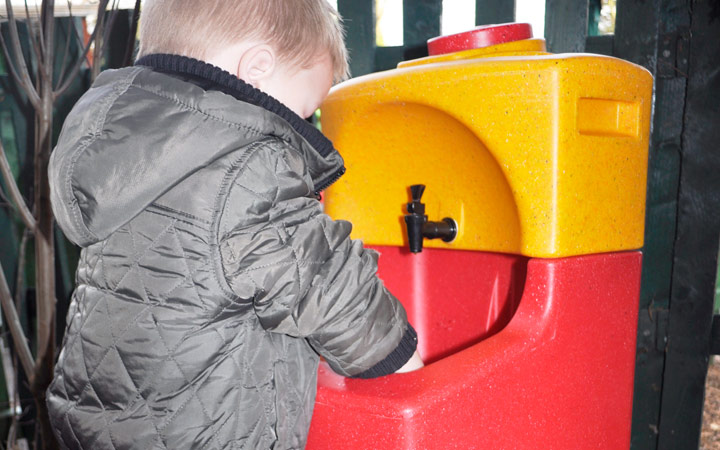 Lack of hand hygiene in portable classrooms an issue for parents »
---
All Kiddiwash portable handwash units can be used inside or outside temporary classrooms
Robust, highly portable – easy to use and clean.
The Kiddiwash range of warm water hand wash units are perfect for smaller hands – and are ideal where a portable solution is required.
Whether you require a larger wheeled unit such as the KiddiSynk, or the ultra portable Kiddiwash Xtra, you can ensure that all children in your care are able to wash their hands whether inside or out.