Children need help with infection control measures
Promoting handwashing to children is more important than ever as schools reopen after the latest pandemic wave. This in turn throws up a real issue, as "children cannot always be relied upon to observe infection control measures" according to a recent report on the Health Europa website.
Hand washing is "an integral facet" of infection prevention and control says the report, but it must be carried out effectively. Hygiene messaging essentially needs to be powerful and bear fruit – and when this occurs it "can have a demonstrable benefit on the frequency and assiduity with which audiences wash their hands."
The article centres around advice given by Dr Sophie Rutter of the University of Sheffield, who states that youngsters are "just as likely as adults to catch COVID-19" as adults, although symptoms are often much less severe. As they continue the process of returning to school, all possible measures need to be taken in order to prevent the virus spread to friends and family.
Teaching handwashing to children
There are two benefits in teaching kids to wash their hands effectively says Dr. Rutter.
"Handwashing is habitual" and good habits ingrained now will last them a lifetime.
Children often become hand washing ambassadors, reminding their contemporaries and adults of the need for it and how to undertake it properly.
"In the longer term, it is crucial to remind children and adults of the need to continue with good hand hygiene practices."
Hand washing guidance
The article points out a number of worldwide sources for hand washing guidance, including:-
---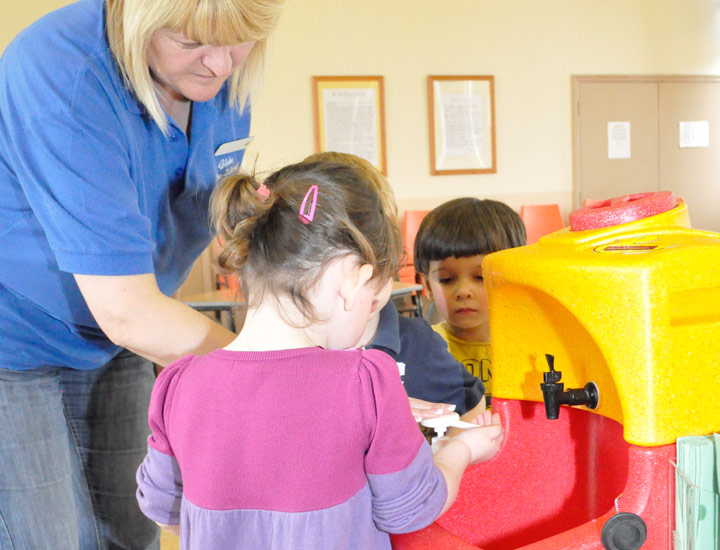 Children being taught to wash their hands with a Teal portable sink
Teach children effective hand washing techniques with portable sinks that can go anywhere – indoors or out
The Kiddiwash range of warm water hand wash units are perfect for smaller hands – and are ideal where a portable solution is required.
Whether you require a larger wheeled unit such as the KiddiSynk, or the ultra portable Kiddiwash Xtra, you can ensure that all children in your care are able to wash their hands whether inside or out.